Office Shelving Units & Systems
FOREG®
Office
Shelving Systems
– Save space and you save costs.
Varying requirements and different ambients call for a variety of filing and storage solutions. FOREG® Office has the optimal design for every office and every budget. Several designs and dimensions to choose from make sure that a customised solution will be found. Get in contact today to discuss your storage installation.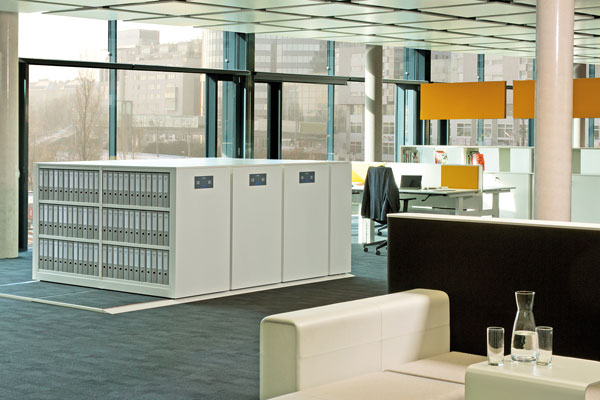 FOREG® Office Shelving Solutions – the easy solution.
Optimise the use of your available floor space
Shelving designed as modules
Storage space arranged exactly to your needs
Combination of storage and conference zones
Support for clean desk policy and desk sharing
Quick to move
Maximize space and you save – through mobile shelving.
When space is at a premium, FOREG® Office opens up entirely new dimensions. In contrast to stationary shelves and traditional filing cabinets, the system provides access only to the aisle in use at any one time – so that the remaining floor area offers more than double the storage space. Ease of operation to meet users' requirements – whether mechanical with a crank drive, push-pull or electronic.
Customised design.
Add your own touch. Use FOREG® Office to match the appearance of your shelving to your furniture. Flexible in its design, variable in the choice of materials – from end panels made of metal or glass to fabric-covered acoustic panels.
Additional storage.
The components of the large range of accessories can be combined, retrofitted and exchanged in response to your changing needs. Each part can be height-adjusted by a 20 mm grid same as the shelf panels.
FOREG® Office accessories:
Wardrobe bar
Leaf doors
Drawers
Filing cradles
Book ends
Shelf stops