Archive Shelving Units & Systems
FOREG® Archive shelving systems – Archive materials stored securely.
Archived files need to be quick and easy to retrieve. To achieve this, a clear arrangement and straightforward structures are essential. Storage needs vary from user to user, and archive shelving systems need to reflect different uses
Archive shelving systems – Volume over space.
When planning its filing and archiving system, a business most of all wants to save on space and use what space it has to the best possible advantage. Fortunately, FOREG® archive shelving systems really are small miracles when it comes to saving space. In adapting to what is possible, FOREG® shelving systems offer optimal solutions for day-to-day needs. Archive shelves designed as mobile systems make even better use of the available space by doubling the storage capacity. And room height permitting, we even supply multi-storey shelving systems.
Mobile archive shelving systems – Heavy loads moved effortlessly.
Moving heavy loads calls for ease of handling. A system of tracks perfectly matched to the drive allows moving even heavy loads with little effort along a FOREG® shelving system. Whether you choose a manual drive, crank drive or electric drive – you will be sure of safe, effortless movement, easy handling and smooth operation.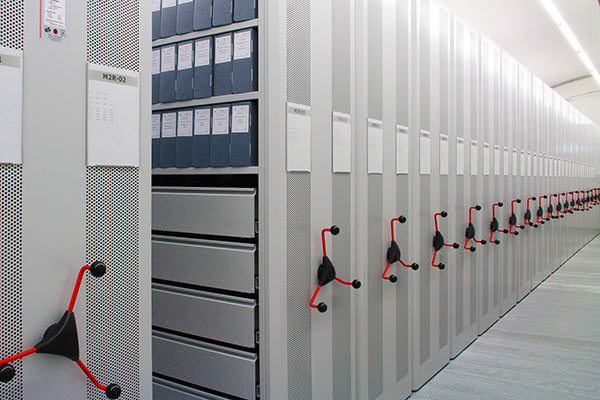 Achiving systematic storage
FOREG® archive shelving systems are perfect in adapting to individual conditions. A large range of sizes, frames and end panels, as well as the enormous scope of accessories available help fit each archive shelf exactly to its place. Naturally the main consideration is on what is to be archived. By accounting for requirements and local specifics we design solutions for every shelving need. A modular system allows us to interchange, combine and extend components exactly as required