FOREG® Library Shelving Systems – Knowledge coherently stored.
Whether it is readers browsing in the open-access part of a library or librarians going through archives and store rooms – to both groups Ecospace delivers superior know-how combined with state-of-the-art engineering and superb creativity. Flexibility and efficiency are the rock-solid foundation that our clients can rely on. Get in contact to discuss your library shelving system installation today.

Library Shelving – Function in its most attractive form.
Libraries are a great place to fuse aestetics with function. The shelving of a library ist not just designed to serve order and clarity, but it is also an essential part of the library's inner workings. Achieving a harmonious ambience is therefore at the starting point of our planning efforts. The wide variety of end panels and frames for use as design elements
is typical of FOREG® library shelving systems, allowing you to achieve your own customised solution.
Mobile Library Shelving – Room to move.
The more books you have the more space will be needed to bring out the best in them. Our mobile shelving is the ideal solution to get the most out of a given space: it offers almost double the storage space of comparable static library shelving systems. Such space-saving solutions are an investment into the future, because space is becoming ever more precious and needs to be used well.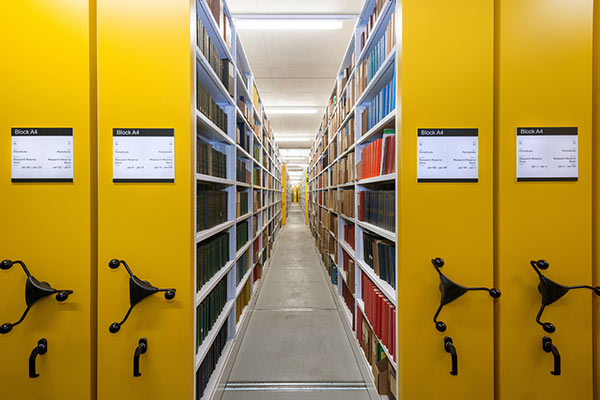 Library Shelving - Accessories Finding your way.
A library shelving system needs to be more than just the sum of its parts. For this reason, the FOREG® series comes with a full range of accessories tailored to your specific requirements.
Bookends
Labelling
Lighting
Doors
Drawers & pull-out shelves
Magazine display – Impossible to overlook.
Everything within sight: With magazine shelves arranged at a variety of angles, the reader has the best possible view and gets to see the magazines in their best light. The shelves fit all heights, reflecting individuality and professionality in all fields of application.