Mobile Shelving Inspection & Maintenance
Why Should I Have My Storage Equipment Inspected?
PUWER (Provision and use of Work Equipment Regulations) requires that work equipment is maintained in an efficient state, in efficient working order and in good repair, with checks frequently.  All storage equipment (such as pallet racking, cantilever racking and mobile shelving) is work equipment and therefore should be inspected, maintained, and repaired on a regular basis.
The SEMA Code of Practice for Mobile Shelving systems recommends formal inspection is carried out be a specialist engineer on a yearly basis. 
Storage Equipment Inspection & Maintenance
The Foreg® mobile shelving systems are designed and installed to the highest possible standard and can withstand considerable wear and tear, however by conducting regular maintenance to the systems you are ensuring the systems remain working efficiently and ensures the 30+years lifespan of the product.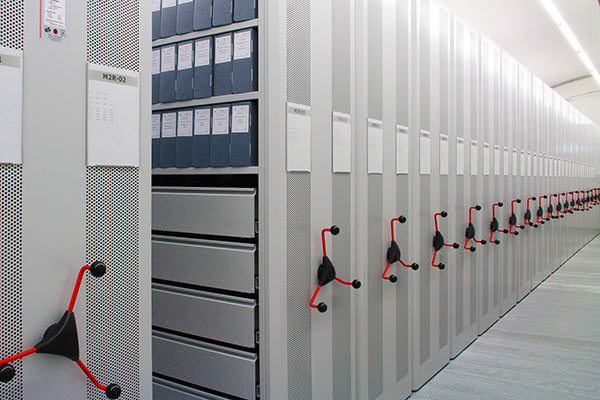 Ensuring Compliance & Health & Safety Regulations
Ecospace can assist you with not only ensuring you comply to these regulations but also ensuring that your system runs as intended, is working correctly and is being used safely.  We will also detect any deterioration (for example defects, damage, wear and tear) and remedied before it results in unacceptable risks.
Our SEIRS/CSCS trained service engineers will come to your premise and conduct a thorough inspection and any attend to any required alterations/adjustments. 
This includes assessment of the following:
Ensuring that the tracks and surrounding floor areas are clear of debris.
Confirming tracks are level and securely tightened.
Ensuring floor chain is at the correct tension.
Confirming that anti-tilt devices are secure and working correctly.
Checking the operation of handles and locks.
Checking that the wheels and bearings operate smoothly.
Checking the drive shaft, coupling, bearings, sprocket and low-level anti-tilts devices.
Checking to see if the mobile bases are showing any signs of distortion.
Checking the system is loaded evenly.
Upon completion an inspection report will be issued along with any corrective actions that may be required.
If you think your mobile shelving system has not been inspection by a competent and trained person in the last 12 months, or might need repair, please contact Ecospace to discuss your requirements further.
We are here to answer any questions you might have.
Get in touch with an expert today to have a chat about your shelving and storage system